Bodyflex - get thin by breathing - Greer Nonsense?

Review: BE A LOSER by Greer Childers with Bobby Katz (Random House, NY, 1998)

by Sue Widemark

Note: This review was first written in 1999 and updated in 2003. In November 2003, the FTC announced they were suing Ms Childers and group for false marketing claims. See article at end of my review. Like I said, if it's too good to be true, it probably IS (not true!) :)

Infomercials are fun. You often DO see new products - I occasionally go to the store to buy one of these and some are good products. Others are scams. One infomercial caught my eye years ago.

It featured a cute pixie-ish fifty year old with long blond hair named Greer Childers who talked of a revolutionary new program called Bodyflex. This program, said the blond, shaking her long blond curls at the audience, promised the user a loss of 4-14 inches in the first week. Greer told her audience that she was fifty-three years old and went from a size 14 to a size 4 in less than three months, using this program.

In researching, I found a book by Greer (pictured above). The book is very enlightening. She's a runner and probably lost her weight that way, when she was in her 40's and not at 53 as she intimated in her first infomercial. The aerobic breathing is something she learned in an expensive class she took years ago as a part of a Pilates program. The routine Greer learned took 90 minutes a day. She, broke and divorced at the time, re-configured the program to the breathing and a couple of calisthenics which she sold as Bodyflex. She never said she DOESN'T still run or do cardio in the infomercial. Bobby Katz was her business manager. (Bobby was featured as a testimonial in the first infomercial).

The most amazing thing is that Greer has some very loyal followers who, despite doing cardio, swear their success comes from the couple of calisthenics and the "aerobic breathing" of Body Flex. (Some have become very angry at me for daring to suggest that Greer's claims may be somewhat exaggerated.

Greer is back in 2003!

I always liked Greer and heck, what red blooded American woman wouldn't give anything to look like her. She's very CUTE. So with delight, I see that Greer now has a new infomercial and a new program. For about 40 bucks you get a plastic sort of bar thingie attached to elastic, a couple of videos and a pamphlet. You still do the 'aerobic breathing' but now do exercises with the bar which Greer proudly says she invented. She is now 57 years old and is shown in the infomercial with pants so tight that she cannot fully sit down. She's still cute, however.

"You can do the exercises in 18 minutes a day," says Greer, "and you can do them sitting down!" "We just don't have time to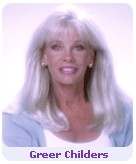 exercise a lot and we want results fast!" She looks straight at you with her cute face and guarantees that her program is not about food (while the small print tells us that the program must be combined with a "normal sensible diet" to work.
From her website, www.bodyflex.com we find a disclaimer similar to the one in the infomercial:
"Keep in mind, everyones results will vary. As with every fitness program, a sensible eating plan is required in order to achieve long term weight loss. "
Bottom line "results not typical" and if you don't diet, you won't lose weight. What's new? Nothing revolutionary about that!
This new infomercial features several testimonials, most of which are unimpressive (for example, one rather large lady looks the same in the before and after shots which are basically head shots anyway although she claims to have lost several inches doing this program).
Greer tells us things we all want to hear. The program requires no dieting and only takes 18 minutes a day of easy, no sweat positions, stretching and breathing. She promises us that we will lose what we would all like to lose the most, flab around the stomach, butt and hips area. And you can do it while watching your favorite TV show.
The problem is, of course, it's not that easy. There is no way you can lose lots of inches in a couple of weeks and 18 minutes a day, not even if you combine 'starvation' (which is NOT a sensible eating plan), with Bodyflex! Don't we all wish. Were it that easy, Greer would be richer than Bill Gates and not have to do infomercials. Greer is a good marketer, selling us her charm and good looks and a promise of "something for nothing" which Americans insist on believing really exists!
Dr Jana Klauer, a fellow at the New York Obesity Research Center at St. Luke's Roosevelt Hospital says sorry folks Body Flex is just too good to be true. The program, she says, is not endorsed by the American Sports Council the American Medical Association or any other reputable weight loss organization as a tried and true means of losing weight. "A product such as this is unfortunate because in America we have a tremendous incidence of obesity and it's too bad that it is marketed as a way to sit in front of your T.V. and exercise. Cause the people sitting in front of the T.V. are the people who should be up and walking and doing a real exercise program." Like many exercise gimmicks, Klauer says there is a grain of truth to the Body Flex prescription. You need oxygen to break down food for energy, but more oxygen doesn't speed the fat burning process. "If all you had to do is breath to lose weight we'd be a nation of slim people."
http://www.janaklauermd.com/janaklauerMD/cbsnewyork_0903.html

I'd love to look like Greer but ...
Greer is very cute, she's fun to watch. It's even fun to dream of looking like her. But her program is basically nothing but outdated technology (calisthenics) combined with a type of deep breathing I learned years ago as 'abdominal breathing'. The new plastic bar adds a few resistance training exercises (all she shows us in the infomercial is bicep curls). Her program is neither new nor 'revolutionary' and probably only worth $40 bucks if you get HER to come visit your home in the deal! :).
Sue Widemark, copyright 2003, all rights reserved
Update: Miss those Bodyflex commercials lately? The FTC announced a temporary injunction on Greer Childers in November 2003, for false claims. They are seeking permanent injunction and possibly "redress" for Bodyflex purchasers.
Here's the article from the FTC website: (November 2003)
FTC Charges BodyFlex Marketers with False Advertising
Challenges Claim That BodyFlex Users Will "lose 4 to 14 inches in the first 7 days"

The Federal Trade Commission has sued the marketers of the BodyFlex+ System ("BodyFlex") for falsely advertising that BodyFlex causes fast inch loss and fat loss. The FTC's complaint, filed in federal district court, names as defendants Savvier Inc. and Savvier LP, California companies; their principals, Jack Ching Chung Chang, Jeffrey T. Tuller, and Keith Greer; and BodyFlex "creator"and spokesperson Greer Childers.
The BodyFlex+ System includes a Gym Bar and a breathing technique. The BodyFlex 18-minute "workout" involves several minutes of deep breathing and stretching, followed by exercises with the BodyFlex Gym Bar. The defendants have promoted BodyFlex through a heavily aired national infomercial and on the Internet at www.bodyflex.com. The defendants claim that, "in just seven days you can lose from four to 14 inches guaranteed with BodyFlex Plus." According to the ads, the BodyFlex breathing is the "secret to burning fat," because it supposedly "will supercharge your blood with fat-burning oxygen and you'll lose inches fast." BodyFlex ads emphasize that the "workout" takes only minutes a day and can be performed sitting down. The defendants stress that the "program is not about food."
"These claims of fast, easy inch loss without diet or exercise exploit the millions of overweight Americans looking for an effective weight-loss and exercise program," said Howard Beales, Director of the FTC's Bureau of Consumer Protection. "Frankly, we think BodyFlex's breathtaking claims are full of hot air."
The FTC complaint alleges that the defendants have falsely claimed that:
BodyFlex causes users to lose from four to 14 inches across six body areas in the first seven days without reducing calories;

BodyFlex causes users to burn enough body fat to achieve the claimed inch loss in seven days; and

a clinical study proves that BodyFlex causes significant fat and inch loss in the first seven days.
The FTC asked the court to issue an immediate temporary restraining order for all defendants, except Greer Childers, to prohibit them from making the challenged false claims, and freezing their assets, and require an immediate accounting. Defendant Greer Childers has stipulated to the entry of a temporary order that prohibits her from making the challenged claims, freezes certain of her assets, and requires an accounting. The FTC also is seeking preliminary and permanent injunctive relief, including redress for BodyFlex purchasers.
According to the FTC, the BodyFlex infomercial has been among the 10 most frequently aired infomercials in weekly U.S. rankings, and has aired over 2,000 times from February through September 2003 on national cable channels such as Bravo, The History Channel, and Home & Garden Television. The defendants have spent approximately $22 million to promote BodyFlex through the infomercial, according to the FTC.
The defendants have sold BodyFlex for $39.90, plus $14.95 shipping and handling (totaling $54.85) directly to consumers through their toll-free number or Web site. The product also has been offered for sale on third-party Web sites, such as www.tvproductsonly.com.
The Commission vote to authorize staff to file the complaint was 5-0. The complaint was filed in the U.S. District Court for the Central District of California, in Los Angeles, on November 7, 2003.
Consumer Tips
The FTC is issuing two updated consumer publications about exercise equipment, "Avoiding the Muscle Hustle" and "Pump Fiction: When Marketers Overextend Their Fitness Claims." These publications, found at www.ftc.gov/dietfit, offer tips to consider and questions to ask before buying exercise equipment.
To lose weight and get in shape:
1. Commit to sensible eating and moderate exercise.

2. Remember: the benefits of exercise require exercise – not gizmos or gimmicks.

3. Be patient. Losing weight and inches takes time.

The FTC hotline number for BodyFlex is 202-326-2935.
NOTE: The Commission files a complaint when it has "reason to believe" that the law has been or is being violated, and it appears to the Commission that a proceeding is in the public interest. The complaint is not a finding or ruling that the defendant has actually violated the law. The case will be decided by the court.
Copies of the complaint are available from the FTC's Web site at http://www.ftc.gov and also from the FTC's Consumer Response Center, Room 130, 600 Pennsylvania Avenue, N.W., Washington, D.C. 20580. The FTC works for the consumer to prevent fraudulent, deceptive, and unfair business practices in the marketplace and to provide information to help consumers spot, stop, and avoid them. To file a complaint, or to get free information on any of 150 consumer topics, call toll-free, 1-877-FTC-HELP (1 877-382-4357), or use the complaint form at http://www.ftc.gov. The FTC enters Internet, telemarketing, identity theft, and other fraud-related complaints into Consumer Sentinel, a secure, online database available to hundreds of civil and criminal law enforcement agencies in the U.S. and abroad.
MEDIA CONTACT:
Brenda Mack,
Office of Public Affairs
202-326-2182
STAFF CONTACT:
Joni Lupovitz or Robin Rosen Spector
Bureau of Consumer Protection
202-326-3743 or 202-326-3740

(FTC File No. 032-3212)
(Civil Action No. LACV 03-8159 FMC (JTLX)
( http://www.ftc.gov/opa/2003/11/bodyflex.htm )